For some people, it is not easy to leave our house empty because they worry whether something bad will happen. For example, there might be a burglar breaking into our home and stealing everything. Hence, most homeowners prefer to install a security camera. But, not all of us can do that since it is quite expensive. If you still want to install it, you can make use of Home Security Camera WardenCam. What you only need is to prepare some old smartphones or tablets and install the app.
How To Install Home Security Camera WardenCam App?
It is really easy to get this app on our device. We can find it in the application store and install it right away. Here's how you do it.
Open your Google Play Store (Android) or App Store (iOS)
Type WardenCam on the Search field and search it
Click on the app and start to install it

Related: Download AtHome Camera App for Android
How to Use Security WardenCam App?
Similar to the download process, it is very easy to use Home Security Camera WardenCam. It does not require many steps to take. The very first thing you need to do here is to prepare the viewer device and camera device.
The camera device is the tool that you use to record everything that happens in your house. The viewer device enables you to see the recordings. You can utilize either smartphones or tablets or both for this preparation. After preparing all of them, you can follow the steps below.
Set up the viewer and camera device. You must set one device as a Viewer while the other is as a Camera.
Before continuing to the next steps, you can edit the settings (optional) like image quality, video resolution, etc. from the Home Security Camera WardenCam app.
Click on Save to Dropbox so the files will be saved there, and you can watch them anytime you want.
Sign in with your Google account to get started. You can create it first if you do not have the account yet.
Now that everything is ready, you can place the camera device anywhere you want.
Set Motion Detection so the camera can start recording once it detects a movement.
To watch records from the past, you can simply click on the red flag icon.
To check on other cameras in other rooms like a living room or garage, you can click on Viewpoint and choose the room you want to see.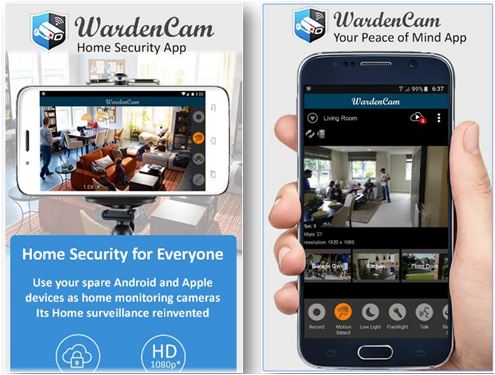 Must Read: Install IP Cam Viewer Lite APK on your smartphone
Ultimate Features of Updated Version
Home Security Camera WardenCam has a lot of cool features. You will find them all to come in handy for the security of your home.
By signing in with a Google account, you can access both your viewer and camera device safely.
It allows you to access the streaming anytime and anywhere over the Internet.
The camera device is ready to record everything within 24 hours per day.
The app respects your privacy. Hence, you can safely save your video files to DropBox or GoogleDrive.
Unlike the other security cameras, there is no charge we need to pay while using the Home Security Camera WardenCam app.
This feature enables the camera devices to start recording once they detect a movement and save the file to your cloud storage to alert you.
This app still works well even when the light is low. It will enhance the video at night automatically.
This feature lets you listen to anything that happens and allows you to talk with your kids or pets.
To Conclude…
Why late? Start monitoring your office or home by installing Home Security Camera WardenCam App on your mobile phone or tablet.
Also See: Download IP Cam Viewer Lite on Windows