When we finally get our house, office, shop, etc. we want it to be secured and safe for it costs us so much to get it. That's why it is normal that we install security cameras to make sure our space is safe from thieves. But how is it possible to monitor those cameras all the time, even when you're not home? Well, thanks to nowadays technology and all the advances in smart devices such as smartphones and tablets. It is now possible to accomplish this task even when going out. Everything is thanks to the gDMSS Lite app. In this guide, we tell you how to manage them.
Download gDMSS Lite APK for Android Devices
In this guide, we tell you how to manage the gDMSS Lite features and use it on your smartphone and tablet:
Step 1: Live Preview
Once you start the app, the first thing you should do is select the "camera" option from the menu. After you do that, the "Live preview" will be activated and you will find in the right superior corner a "camera" icon (yes, the camera again).
Step 2: Selecting cameras
Automatically after you click the "camera" icon, a device list will appear with your security camera DVR on it. Click on the red dot to the right of your DVR option and all your cameras will be selected at once. When you decide on all the cameras you want to view, click on the "Start Live Preview" option from the gDMSS Lite app.
Step 3: Favorites
You can now start monitoring your security cameras. And you can select some of them as your favorites to get easy access at any moment. You just have to click on the "star" icon and then click on "Create new favorite cameras" and then give a name to your camera group to save it. Then, to select it, click on the "star" icon and tap "play" next to the camera group you named.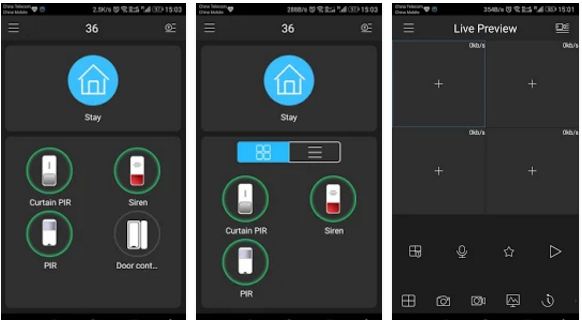 Also Read: Install IP Cam Viewer Lite App on your Android device
gDMSS Lite App Features
Once you've connected your DVR to your smartphone or tablet, it's time to know all the features your gDMSS App has to offer:
You can choose the grid for your preview. It might be 4, 9, or 16, and double tap to single view. There's also an "X" icon to close them all.
You can take "Snapshots" from the cameras you're currently viewing by tapping on the camera button.
You can "Record" short clips from the camera view by hitting the video camera icon.
Camera quality and real-time options can be selected in the clock icon.
Ptz cameras can be controlled by hitting the 4 arrows button.
If you want to discover more features in the gDMSS Lite, slide the principal screen to the left and you'll find a lot more. This software is excellent for watching out for our property from our smartphone or tablet, while we are outside doing anything we need to do, NO MORE WORRIES!
Must Read: Download gDMSS Lite App on your PC