Have you ever heard of IP Cam Viewer Lite? It is one of the applications you can utilize to have a personal security camera in your house. Its main function is to allow you to supervise the condition of your home when you are out. Hence, you can immediately act whenever something wrong happens such as an intruder, fire, or else.
If you are not familiar with this app yet want to use it, here we have prepared several steps to help you out. In addition, we also have included the features you will get from this app.
IP Cam Viewer Lite App Download for Android & IOS
This viewer cam application is already available on Google Play Store and App Store. So, we can easily download and install it on our smartphones or tablets. It only needs three simple steps to get it.
Go to the Google Play store (for Android) or App Store (iOS)
Search IP Cam Viewer Lite and click it once you find it
Install it

Must Read: How to install the IP Cam Viewer Lite app on your PC Windows?
How To Use?
Before installing or even using the IP Cam Viewer Lite app, there is one important thing we have to do first. That is to manage the camera settings. We can do that on the Configuration page. The reason why we need to do the setup is to get the remote viewing. Here are the steps you must take for the settings.
Go to the Configuration page and set the parameters like video codec, resolution, frame rate, and quality.
Now head to the HTTP/HTTPS section and configure the HTTP port.
Move on to the Port Forwarding to configure it in the router.
Add the port you have configured to the IP Address of your IP camera.
Once everything is settled, you can connect your phone to the Internet. It does not matter whether the connection is via Wi-Fi or 4G.
Start downloading and installing the IP Cam Viewer Lite app.
Log into the app and activate the camera option.
Click on Add/Edit to edit the information like Name, Make, Model, and the Host/IP of your router.
Do not forget to fill in the User and Password. It aims to prevent other people from accessing your camera.
After completing the information, click on Save. The video streaming will be started complete with PTZ control (pan, tilt, and zoom).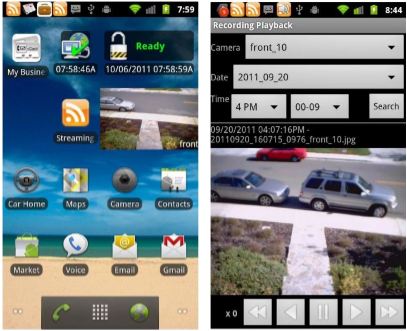 Must Read: Install SuperLivePro App on your Mac OS
Important Features
IP Cam Viewer App has plenty of features that will help you a lot to provide a better home security camera.
It supports more than 1600 devices including DVRs and NVRs
It supports several types of video codecs like MPEG4, MJPEG, and H264
PTZ Control is available
You can store the video files on an SD card, DropBox, and email
The password is available for privacy protection
The features above are only a few of them you can enjoy from IP Cam Viewer Lite. There are still some more you can find once you have used it. And, there will be even more of them if you regularly upgrade the app.
Similar App: How to secure your office or home using the gDMSS Lite App? Follow the link