Sometimes most of us worry about what happened at the house during our absence. Most parents who often leave home for work usually have such thing in their mind. They are afraid if there is something bad happens to their children, elders, or even pets. Now you do not have to fill your mind with those kinds of thought. What you need to solve this problem is AtHome Camera App.
It is one of the most trusted home security apps in the world. It can work as a baby monitor, nanny cam, pet cam, etc. This app can be operated by using smartphone and tablet. Get this camera app from Play Store.
AtHome Camera App Features
There are several features you will get to enjoy if you download this app on your mobile phones or tablets.
This app allows you to monitor your house anytime and anywhere using a smartphone via 3G/4G connection or WiFi network.
It can run both streamer and viewer on smartphone, tablet, and PC.
Its Two-Way Talk feature enables you to communicate with people or even pet in the house through the built-in mic and speaker.
This app is equipped with Motion Detection. Whenever it detects a suspicious movement, it will send an email or notification to you right away.
All of the connection between the phone and video streaming device is encrypted to ensure your privacy while using the app.
You can control the camera movement from right to left or up and down by using the PTZ control.
Night Vision mode is available for home security at night or in a low-light condition.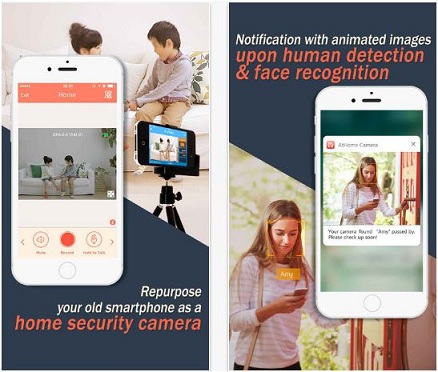 Want to use it with your PC? Sure you can do that too. In that case, let us tell you how to install AtHome Camera app on PC Windows and Mac.
How To Download & Install App on PC/Laptop?
Before downloading this Camera app for PC, you must first prepare a smartphone and PC complete with a USB camera.
After everything is well-prepared, you can download the app streamer for PC Windows or Mac and then install it onto your PC.
Launch the app once the download is finished and click on Generate QR Code. If it is your first time launching the app, it will give you unique connection ID, generated username, and password.
Now you can download the app from Google Play Store or Apple Store and install it on your smartphone.
Launch the app, click on Add by QR Code, and scan the code which you have generated before.
After that, select the newly added CID from the camera list, and you are done. Now you are ready to watch live view around your house via your smartphone.
Update: Here is the complete tutorial to install this app on your Windows & Mac
AtHome Camera is certainly one amazing app to get a reliable home security and video surveillance. Once you have this app, you will be no longer need to worry about your house everytime you want to leave. You can monitor the situation in the house from everywhere by simply using your phone.
Must Read: Download iVMS-4500 surveillance App on PC Windows & Mac.