Monitoring and surveying what matters to you are really important these days and technology knows it. That's why advances in surveillance have taken advantage of devices such as smartphones and tablets to assure a complete supervision experience. In this matter, the tinyCam Monitor App is one of the best options in the market to use your smart devices to monitor your house, office, children, pets, etc.
With this app, you can not only monitor all your cameras, CCTV, and surveillance DVR's from distance. But you can also turn your smart device into a surveillance camera. In this guide, we explain to you how to use and download tinyCam Free Monitor App for your smartphone or tablet.
Also Read: How to monitor your CCTVs using SuperLivePro App?
How To Install the tinyCam Monitor App?
If you only want to use TinyCam Free Monitor App on a smartphone or tablet to monitor a CCTV, webcam, etc., things are easy because all you need to do is download the app directly from Google Play Store on your phone or tablet and synchronize it with your camera or DVR.
It's as simple as selecting "generic" in the "vendor" option to identify the cameras or clicking on "accept" when the message "select random cameras" appears.
Must Read: How to download tinyCam Monitor on your PC?
How To Turn Your Smartphone or Tablet into a Camera?
By using your smartphones and tablets as surveillance cameras, you can also take advantage of the tinyCam Free Monitor App. If your smartphone device is Android 5.0, you only have to select the "Add Android Camera" option on the camera manager. But if you want to use old smartphones or tablets, you can also do it with a little help:
#1 Step: Download on Google Play Store, the free app "IP Webcam" which allows you to broadcast video from your smart device.
#2 Step: Start the app and click on the "Start server" button (you might have to scroll a little bit)
#3 Step: Check your IP address and port number and take note of it.
#4 Step: To synchronize your new camera/old smartphone or tablet with the TinyCam Monitor app, you have to run it and hit "NO" when it asks to add random cameras.
#5 Step: Click "Add camera" in the section "Camera vendor". And change the default for "IP webcam for android" and put your IP and port number.
#6 Step: Go back to "Home" and hit "Live view". And automatically you'll see the image footage from your old Android device on your smartphone or tablet.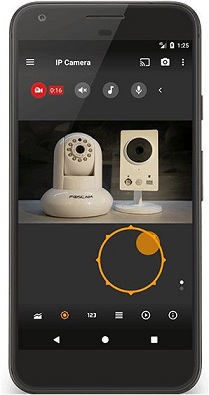 Related: Install AtHome Camera App on your iPhone device
tinyCam Free Monitor App features
Up to 16 cameras support in the free
You can monitor up to 4 cameras at the same time
You can connect to public cameras
Change cameras with a swipe
You can access your cameras in less than 10 seconds
You can share your footage by email with a simple click
Digital Zoom
Snapshots
Import/Export options.
P2P support
Generic IP cameras program is automatic for cameras that support TILT, zoom, and pan. You just need to select your model from the list.
Note: Upgrade to pro version and then get more advantages using tinyCam Monitor Pro App.
Similar App: Download iVMS-4500 App for Android devices.